The 3-Day training, held from 20th to 22nd April 2021, focused on building capacity on "Acquisition and Processing of Drone Data and Application". The organizers adopted the blended teaching method (online and classroom) during the training. Participants were taken through various Drone applications including images services and 3-D modelling, rubrics of Drone Piloting and Image Acquisition; processing of Drone Images for Flood Monitoring and Management; types of drones and introduction to remote piloting,; flight preparation and photogrammetry mission execution; preview and acquisition of drone images and features; processing and analysis of different drone images as well as products: Point cloud, Orthophoto, DEM, DSM, NDVI, etc.
The training was well attended by all the seven (7) Consortium across five (5) West African Countries – Nigeria, Benin, Ghana, Burkina Faso, and Cote D'Ivoire, involved in the project of mitigating disasters associated with flooding. CSSTE Consortium is one of the 12 Consortia of the Global Monitoring for Environment and Security and Africa (GMES & Africa) support programme – a joint initiative of the African Union and the European Union targeted at using Earth Observation data (Satellite data) to tackle existing challenges in Africa, by Africans and for Africa.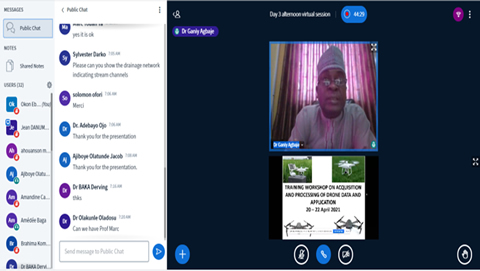 The Executive Director (CSSTE) and Lead of the Consortium, Dr Ganiy Agbaje stated that combining the analysis of drone data with other earth observation technology is key to the mitigation of the challenges posed by flooding in Africa and West Africa in particular. 
The 3-Day training was anchored by Drs Baka Derving and Danumah Jean from CURAT, Cote d'Ivoire. They introduced the participants to major components and features on drone, also called unmanned air vehicle (UAV). They stressed the importance of UAV as an equipment that can be used to collect high resolution images of flood incidence in real-time. The introduction pointed out that the application of drones can certainly aid fast information required in all the four pillars of emergency management of flooding including mitigation, preparedness, response, and recovery stages. Two types of Drones were identified: Military and Professional.
In the second session the trainers explained the process and stages involved in the Automatic flight program for photogrammetry. The participants downloaded the PIX4D mapper (trial version) and drone data for practice. They used these for the 3 steps involved: Flight mission planning; mission execution and ending.
Participants were also taught how to create project folders; import Drone Images into PIX4D Mapper,  data management and display within PIX4D Mapper environment. Various Tools available for modelling in PIX4D Mapper (trial version and paid version) like GIS analysis, components and how to configure model for flood modelling were introduced. .
Tools for computing and running of analysis (Point Cloud and Mesh, Digital Surface Model (DSM), Orthophoto and Indices) were introduced. They show participants how to present results in map formats, tables, graphs, and time series tables.
Practical demonstrations continued on the final day with an introduction to Software Overview (PIX4D Mapper and other packages); results analysis and interpretation of model simulation delivered.
Data required were inputted for the flood simulation and various flood models and calibrations were implemented. Thereafter, the analysis was run successfully, and results generated, were displayed in maps, tables, and graph formats. 
Participants were shown how to interpret the various results generated from various flood models and river flow scenarios. series tables. The results of the flood path and its relationships to the landuse and landcover of the study area. All the results flood model simulated were interpreted by showing all the area that maybe inundated by flooding land-use affected by flood were displayed.