The 2021/2022 Postgraduate Diploma Programme witnessed a major milestone with the enrolment and graduation of the first Space Law participant, Barrister Batife Ugulapelewei George.
Barrister Batife is a Nigerian lawyer, born into a Christian family in Arogbo, Ese-Odo Local Government area of Ondo State, the traditional headquarters of Ijaw ethnic nationality in Ondo State.
He attended First African Church Mission (F.A.C.M) Primary School,Arogbo, Ondo State (1984-1990) and then Ijaw National High School, Arogbo, Ondo State for his Secondary education (1991-1996). He proceeded to Adekunle Ajasin University, Akungba-Akoko where he obtained the Bachelor of laws (LL.B Degree). His next point was the Nigerian Law School from where he was duly called to the Nigerian Bar in 2013 having satisfied all conditions prescribed by law.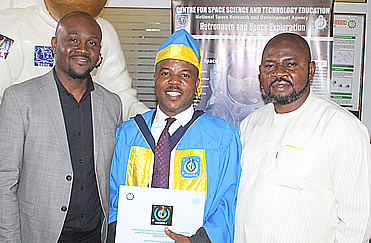 During his University days, George was a student leader and activist, a principal partner Emporium Litigators and the Attorney General and Chief Law Officer of the Law Students' Society (LSS). He joined the campaign for the respect of student's right and advocated for non-interference of students' unionism by the university management.
His diverse engagements in his professional designations abroad paved way and birth the idea to undertake the study of Space law. He is an embodiment of humility with great personality whose credentials endears most of his colleagues to him. He is a member of so many professional bodies and had bagged numerous awards.
One of his favorite quotes is "As we must account for every idle word,so must we account for every idle silence".
Barrister Batife was supervised by a seasoned Space Law activist in the person of Barrister Olusoji Nester John. His final thesis was on "An Analysis of the Principle of Non-Weaponization and Non-Militarization of the Outer Space". It is expected that with this addition, more legal professionals will take advantage of the Space Law eco-system.