During the just concluded 44th Annual Conference of the Nigerian Institute of Physics (NIP) which took place on the 8th – 12th May, 2023, the Executive Director of UN-ARCSSTEE, Prof. Babatubde Rabiu was conferred with the honour as a Fellow of the Institute. The conference which was organized in collaboration with the Lagos State University of Science and Technology (LASUSTECH), Ikorodu was themed 'Physics as a Technological Solution for Sustainable Development Goals'. The theme is deemed apt in view of the current global economic state.In the welcome remarks given by the Chief Host, Vice Chancellor of LASUSTECH, Prof. Olumuyiwa Odusanya appreciated the organisers for giving the institution the honour to host conference. He pointed out the key importance of Physics for development and he encouraged more teaching of physics whilst acknowledging the efforts of Physics teachers.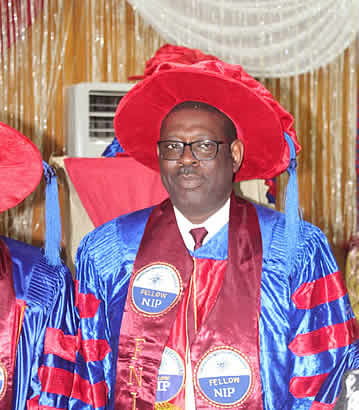 Professor Babatunde Rabiu
(Executive Director UN-ARCSSTEE)
The Keynote lecture was delivered by Prof. E.A Ayolabi, Vice Chancellor, Mountain Top University. The lecture started with a brief historical development of physics, crediting Thales as the first known physicist. He highlighted the fact that physics has been a driver of technological solutions by listing a few of the technologies driven by Physics; heat engines, vacuum valves, rockets, electric motors, power plants, radio and wireless communication, digital electronics to mention a few.
He pointed out they all have their foundation in Physics. Further in his address, he established how Physics is a tool for achieving Sustainable Development Goals (SDGs). Physics is directly linked to SDGs 6,7,13. 
However, due to interrelatedness, solving one SDG helps in the attainment of the others. In the 20th century, physics was the driver for developments in IT, robotics, manufacturing, medicine and so on.
He gave an example of the MeerKat Radio telescope which provided jobs thereby eradicating poverty, enlightenment and so on. Contribution of physics to mechanized farming which increases productivity and yield – contributes to zero hunger SDG #2. SDG #3: Physics techniques are the basis for the development of medical equipments, fiber optics employed in surgery. Prof. Ayolabi concluded his lecture by charging educators to employ innovative ways of teaching introductory physics courses to engender interest in the area of study.
The Award of Excellence was given to other notable members of society like the former Military Governor of Lagos State, General Buba marwa, former Lagos State Head of service, CEO of FINLAB Nigeria Ltd. and the overseer of Mountain of Fire Ministries, Dr. D.K. Olukoya.
The Conference was declared open by the Governor of Lagos State, Mr. Babajide Sanwo-Olu ably represented by Permanent Secretary, Prince Adeniran who also conveyed the goodwill of the Governor for a successful conference.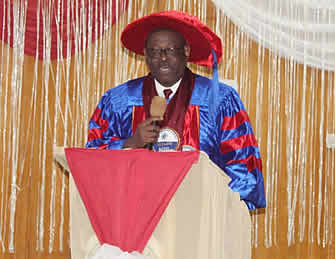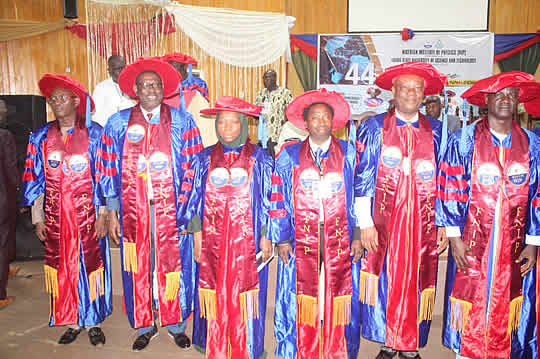 Members of the Nigeria Institute of Physics (NIP)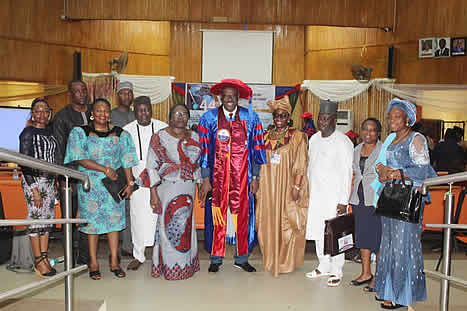 Professor Rabiu with UN-ARCSSTEE Staff