The Administrative division is saddled with the responsibility of co-ordinating the day to day activities of the Centre. All correspondences and logistics concerning the programmes of the Centre are handled by this division. It also carries managerial functions as directed by the Director/ Chief Executive. The update and keeping of records of activities form part of the duties of the division. The division has a sub-unit regarded as the Finance section.
This unit takes care of all financial matters like planning, budgeting, auditing, procurement and other financial functions. The Planning officers work on budget planning and implementation while the auditor audits the Centre's procurement vouchers. The procurement officers engage in the procurement processes and ensure that all procurement follow due process.
The Administrative division oversees the affairs of the Centre by ensuring that staff carry out their delegated duties. Reports of activities from various units are submitted to this division for proper collation and documentation. The division also ensure the smooth running of the Centre by providing facilities needed for productivity of staff, teaching and learning of students in the Centre.
The division establishes contact and linkages with Ministries, Departments, Agencies, Academic Institutions and other relevant bodies both local and international.
The facilitation and execution of the Governing Board meeting and its activities forms part of the role administrative section.
Visit by the Defence Space Administration
Joint Africa/Asia-Pacific UNOOSA-Regional Centres Collaborative Training Efforts on Global Navigation Satellite Systems (GNSS)
International Training Course on Satellite Navigation and Location based services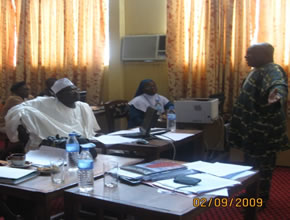 Development of Curricula for Space Science Education.