A delegation of the Management and Staff of the United Nations African Regional Centre for Space Science and Technology Education in English (UN-ARCSSTE-E), Obafemi Awolowo University, Ile-Ife, led by the Executive Director, Professor Babatunde Rabiu paid a visit Bowen University, Iwo, on the 22nd of March, 2023, to advance the existing academic research relationship between both institutions.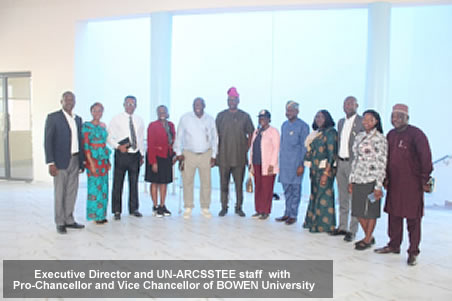 It was an eventful day as the visit coincided with the commencement of the jubilee celebration and formal commissioning of the newly built Senate edifice. For this reason, the Pro-Chancellor and Chairman of the Governing Council of the university, Deaconess Joan Olatoyosi Ayo OON, were present. As is the tradition of the University, visitors and guests plant trees to mark their visit.
Consequently, the Executive Director, Prof. Rabiu and Mrs. Fadiora (DD/Admin & Finance UN-ARCSSTE-E), had the privilege of planting a tree each.
In his welcome address, the Vice-Chancellor, Prof. Joshua O. Ogunwole appreciated the courtesy visit by the team from UN-ARCSSTE-E and expressed his interest in the Postgraduate Programs for students and other training for his members of staff in space-related studies. He also stated that a Memorandum of Agreement (MoA) should be drawn out of the existing Memorandum of Understanding (MoU).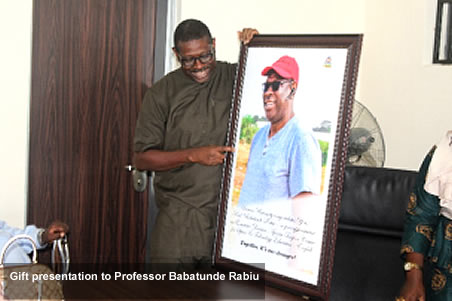 He informed Prof. Rabiu of the Diaspora Professor Initiative where scholars at the cutting edge of their discipline can lecture and co-supervise in virtual classes. He requested that the Centre should get involved in order to increase participation. Prof. Ogunwole promised a return visit to the Centre before the end of his tenure.
In his response, Prof. Rabiu congratulated the VC on the successful completion of the Senate building, recalling the enormous challenges the University encountered during the construction and is glad to see the challenges have been surmounted and the goals achieved. Prof. Rabiu gave a brief history of ARCSSTE-E and highlighted the purpose of the visit which included; a renewed collaboration between the Centre and the University, to explore better options for the Postgraduate Diploma (PGD) Programs.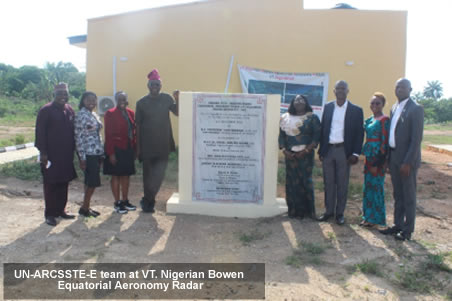 In addition, the Executive Director encouraged a synergy between the two Institutions in order to access international grants for research purposes.
He emphasized the utilization of the Virginia Tech NigerBEAR Laboratory, by the University, which is situated within its premises.