The Executive Director, Professor Babatunde Rabiu accompanied by Management and Staff of the United Nations African Regional Centre for Space Science and Technology Education in English (UN-ARCSSTE-E) paid a courtesy visit to the Vice Chancellor of Osun State University, Professor Adebooye Odunayo Clement on the 22nd of March, 2023. The aim of the visit was to promote the existing collaboration between the Centre and the University.
In his welcome address. Professor Adebooye O. Clement congratulated Prof. Rabiu on his well-deserved appointment as the Executive Director of UN-ARCSSTE-E. The Vice-Chancellor requested continuous collaboration between both institutions. He highlighted some remarkable achievements that occurred in the university of recent.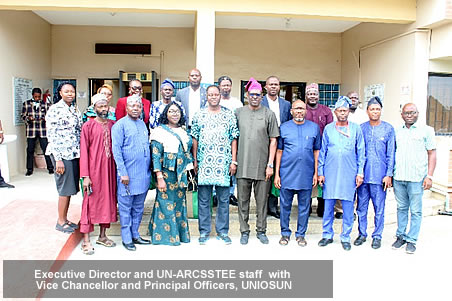 He mentioned in particular, the accreditation of the University's Central Laboratory by the World Health Organization (WHO), which allows samples of people with various infections to be remitted for analysis. He pledged to ensure that the collaboration between the Centre and the University is concretized and formalized.
At this juncture, Prof. Adebooye pointed out that the University will commence an innovative academic program that would enable collaboration with UN-ARCSSTE-E, leading to the award of degrees. He emphasized that this was a point for the two institutions to find a convergence where experts from the Centre and the University could participate in a joint academic programme. He also mentioned his concern about students not registering for Geography and suggested an innovation where Geography could be renamed and broken down into subject matters and courses like Remote Sensing and GIS, Satellite Meteorology, Global Climate Change, and so on in order to attract more students. He expressed appreciation for the visit made by the Centre on behalf of the management of the university.
In his response, the Executive Director of UN-ARCSSTE-E, Prof. Babatunde Rabiu gave a brief history of the establishment of the Centre and its mandate.
He appreciated the Vice Chancellor for hosting the Atmospheric & Space Weather Research Laboratory, now under UN-ARCSSTE-E and expressed his intentions which included; renewed collaboration with the university, gaining access to available opportunities including working with the staff of the university in developing grant applications towards the development of the university.
Furthermore, he promised the availability of data from the Atmospheric Research Laboratory to the university staff and students. He added that the Centre would collaborate on joint Postgraduate programs with the university and other training programs that would involve the members of staff of the University.