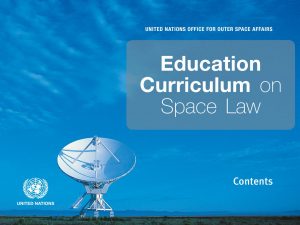 Space law can be described as the body of law governing space-related activities. Space law, much like general international law, comprises a variety of international agreements, treaties, conventions, and United Nations General Assembly resolutions as well as rules and regulations of international organizations.
The term "space law" is most often associated with the rules, principles and standards of international law appearing in the five international treaties and five sets of principles governing outer space which have been developed under the auspices of the United Nations. In addition to these international instruments, many states have national legislation governing space-related activities.
The Curriculum can be downloaded <<here>>.