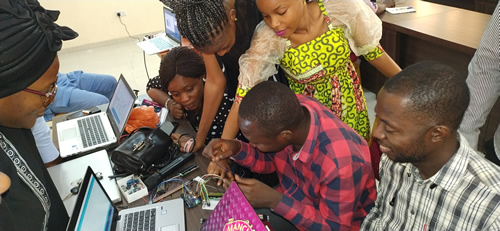 ARCSSTEE is a leading institution in Africa dedicated to advancing space science and technology education. Our comprehensive programs are designed to equip participants with the necessary skills and knowledge to excel in the rapidly evolving field of space science.
Whether you are a student, professional, or enthusiast, our short-term courses and workshops offer a unique opportunity to delve into various aspects of space science and technology. Led by renowned experts and experienced instructors, our programs combine theoretical knowledge with practical hands-on training, ensuring an immersive learning experience
At ARCSSTEE, we believe in fostering collaboration and empowering individuals to contribute to the growth and development of the space industry in Africa. Our courses cover a wide range of topics, including satellite communication, remote sensing, space weather, satellite navigation,  space applications and; Space Law and Policy.
By participating in our programs, you will gain insights into cutting-edge technologies, emerging trends, and innovative applications in the space sector.
Join us at ARCSSTEE and unlock your potential in space science and technology. Whether you are looking to expand your knowledge, enhance your career prospects, or simply indulge your passion for space, our short-term courses and workshops are tailored to meet your needs. Embark on a transformative learning journey and become part of a vibrant community of space enthusiasts and professionals.
Explore our website to discover the diverse range of courses and workshops we offer and take the first step towards a rewarding and fulfilling experience in the realm of space science and technology.
Welcome to ARCSSTEE, where the sky is not the limit.
Available Short Term Courses